Weekend for Friends
Weekend for Friends


Last Saturday was the baptismal of Krestel's beautifuk daughter Akeisha. Joanne and I met at SM Centerpoint at 3 PM and went straigh to Sanctuario de San Antonio at Forbes.
The bapstimal ceremony lasted for about 45 minutes. After that, we went to Dad's Glorietta 3 for the reception. There we met Edenne and Omar. We updated each other about each other's lives. While eating kare-kare, we talked about parenthood (for Edenne and Krestel) and work. Listening to our conversation, I was amazed on how much we grow.
Our opinions are more mature. And our thinking are more rational. It is not about ourselves anymore. It is about their own family (for Edenne and Krestel) or for our parents (for all of us)
The times Edenne and Krestel spent in the Ladies CR for retouching their make-ups back in college were replaced by taking care of their babies.
I remember writing in my journal notebook this phrase: you cannot stop change. We have changed. And I am looking forward in hanging out with them again. I miss them.
-----
After the reception, I went to Kian's birthday party. Me and my friends drank our way all through out the night. At around 2 AM, we made plans to go to Tagaytay. This was my first time to join them in Tagaytay so I decided to go. Ang lamig! We went to Starbucks but it was closed. So we stayed at 7-11 to eat something and wait for the sun to rise. Picture galore.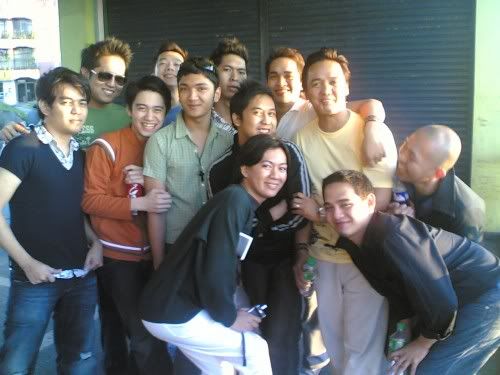 "domwhee, dito yun cam!"
L-R: Alvin aka Curting, Brian Keith, Moi, Edmar aka Ramdelicious, Ranjoe, Young aka Simplelife, Drake24, Harli aka Danzboy, Dom aka Domwheesung. Ang mga nakatuwad (L-R): Jhumar and Chaileyva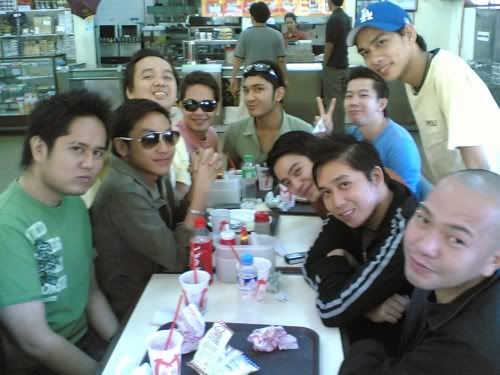 Ito itsura ni BK kapag lalaki at si Domwhee kapag pa-sweet.
"Tangina, halaman." - ang panalong statement ni Bekay. Lalaking lalaki ang delivery pero ang kamay niya nasa dibdib!
I would like to say thank you to Domwheesung and Alvin for not sleeping during the drive. Sila ang driver eh. Thanks Jason aka Siphone (dami niyo kasing Jason) for the pictures. Jhumar, post your pictures soon!!
I was so glad I joined them. Kahit sobrang sakit sa ulo ng walang tulog.