Of Torva and Love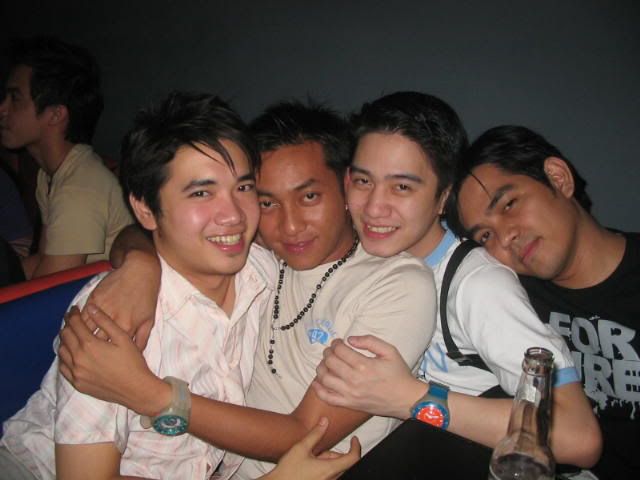 Fab Friends - Lester (Howeko), Raymund (Rainbow), moi and Alvin (Curting)


There was a News and Public Affairs Christmas Party last night here at GMA. But I was on duty so I have no time to party with my co-workers. I just ate dinner and went back to my cubicle as soon as I was done.

After my shift, Raymond texted me informing me that he will be at Malate. He also asked me if I will be going there. I said yes. So at 12:30 MN, I was outside the gates of GMA waiting for a taxi with my friend, Lorie. I arrived at Malate at around 1 AM. I went straight to Sonata where Raymond was waiting for me. I also saw Letran friends with Mam Me-an at Synders.

Alvin texted me asking me where I was and saying he has something to tell me. So I told him I was at Sonata with Raymond.

The thing he was dying to tell me was that four of our friends were held in a precint. Why? They passed by a checkpoint and the police found some torvas in the pouch of one of our friends. The police were asking for 60, 000 in exchange of their release. At the end, they bargained and they paid 30, 000 for their "freedom."

At around 3 AM, I was set to go home. But another thing happened. I don't think I am in the position to meddle with such things. So I will not tell the story of what happened to two of our friends who are "starting to like" each other.

Instead, I will write on what Rainbow and I discussed over iced tea and mango juice at Cafe Adriatico.

One question that surfaced: Bakit may mga ganoon tao? Teary eyed, we talked of what happened -- apparently, Rainbow can relate to this. And this morning, I have realized that I have been through the same thing two years ago. It hurts to see that the person you love the most does not give a flying fuck of what you feel. You best efforts go down the drain.

So, bakit may mga taong ganoon? People who think that they can wrap people around their finger because they are rich or they are too good looking. People who think that they can toy with people's feelings.

But everytime I come across people like that, Alicia Keys always reminds me of something: What goes around, comes around.